NEW PATIENT SPECIAL OFFERS!
Chiropractic New Patient Initial Appointment $45 (normally $245)
Get started on your Chiropractic journey today with our $45 Complete Initial New Patient Exam.
Massages have been around for thousands of years. They are well known for their effectiveness and therapeutic value. They are particularly beneficial in today's fast paced world, where so many of us are stressed and constantly on the go, with little time to relax or commit to our general well-being. At Mount Royal Village Family Chiropractic, we are pleased to provide patients Calgary massage therapy to help with relaxation, healing, and improving overall quality of life.
What Kinds of Massage Therapy Do We Offer?
Massage therapy is the process of slowly working the muscles and tissues of the body with consistent pressure. Different types of massages have different kinds of effects, and there is a wide range of options available.
Our massage therapy services are versatile and suitable for all sorts of patients. Our experts consider your requirements and current state of health before recommending a massage style. Here is a look at the type of massages we offer:
Our Registered Massage Therapists will explain the advantages of every type of massage carefully and explain their reasoning behind their recommendation.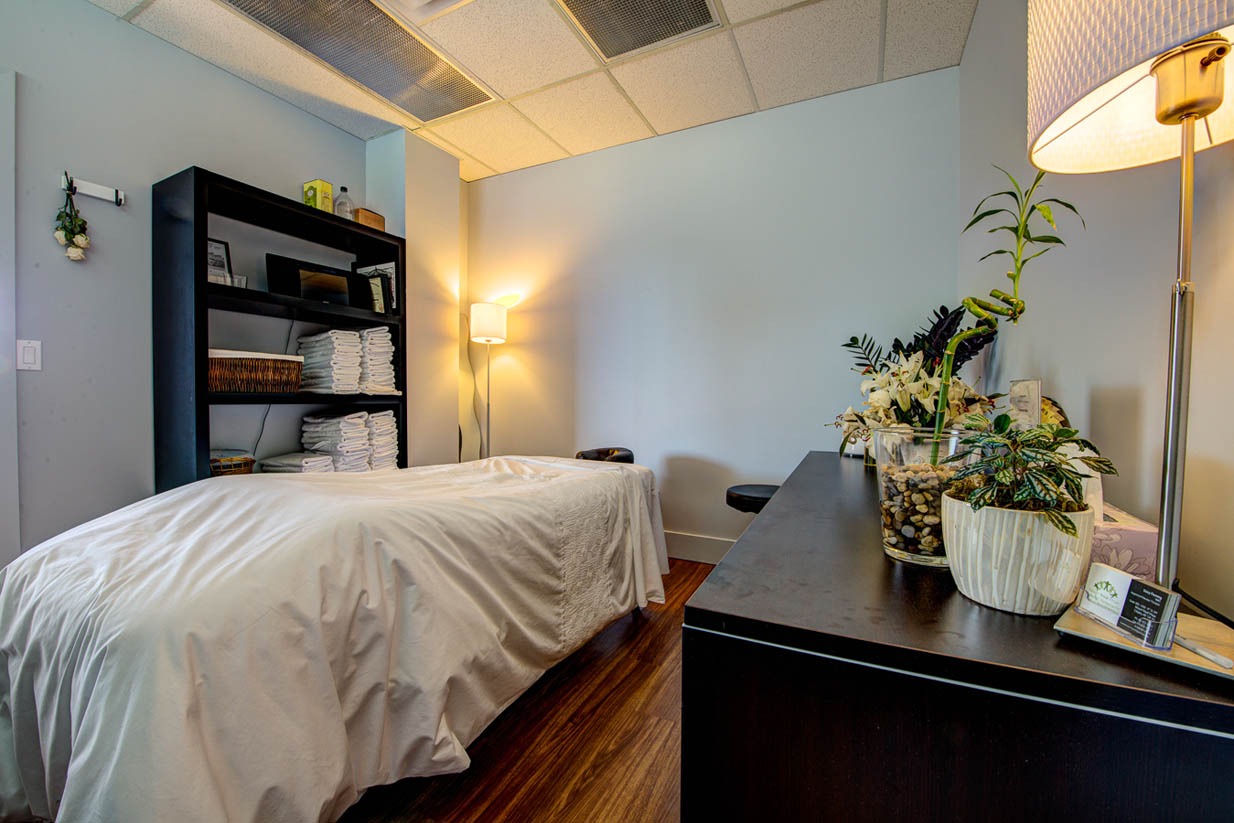 What Are The Benefits of Calgary Massage Therapy?
There are several benefits of a good massage, especially if you get it done by trained experts with ample experience in the field. Some of the most common benefits include:
Increases blood flow to different areas of the body
Helps tissue, muscle, and ligaments relax
Eliminates aches and stiffness
Improves range motion
Allows you to let go of stress and enjoy
Calgary Guasha Massage Therapy
Guasha is a technique that uses either a stone or a specially designed metal instrument to break down adhesions in either muscle or connective tissue to alleviate pain, reduce inflammation and/or correct ranges of motion at or around a joint.
Guasha has been used to assist in the recovery from tendinitis, sprains, strains, trigger points, headaches, and plantar fasciitis.  Guasha can also help to restore the proper resting length in muscle tissue.
Calgary Theragun Percussive Therapy
Theragun ® therapy is used as a percussive therapy to reduce tough adhesions in muscle and connective tissue, to help increase range of motion at a joint and to restore muscles imbalances. Theragun ® is regarded as one of the best percussive therapies available.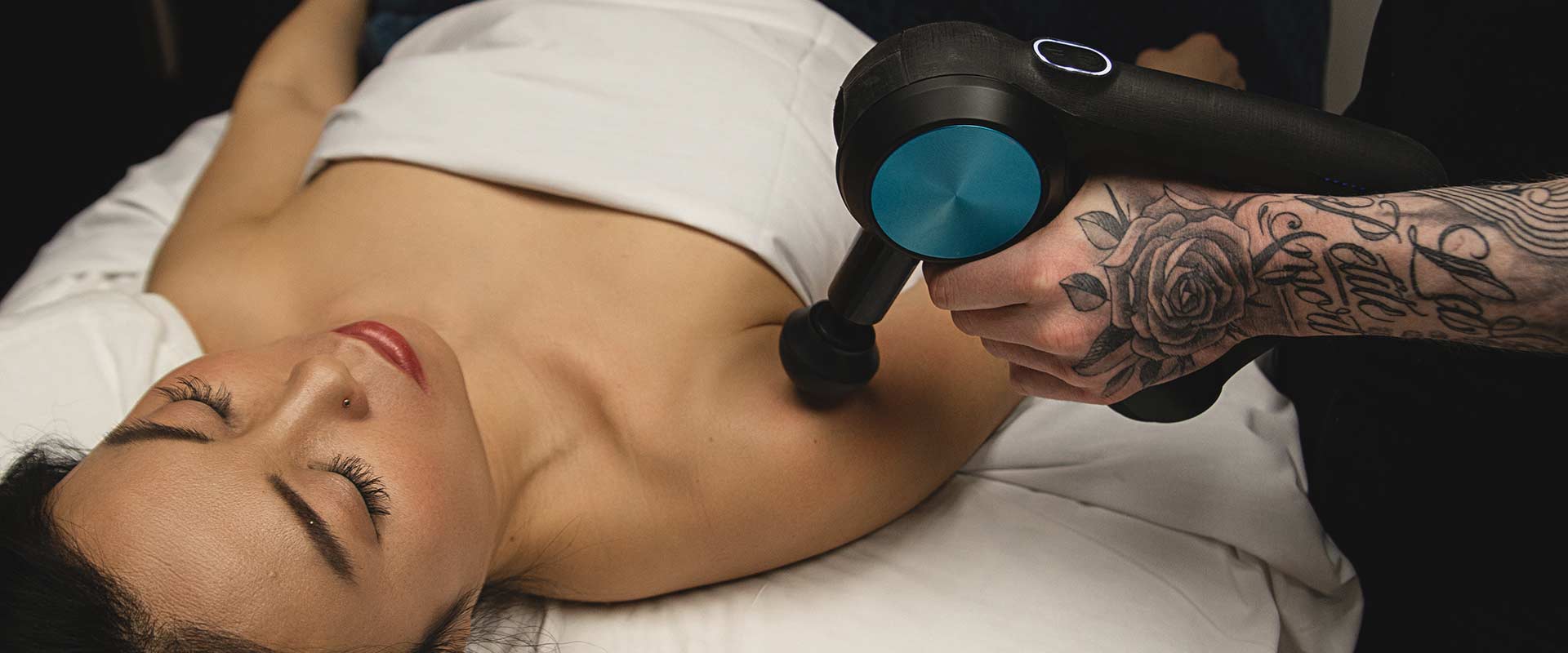 Calgary Cupping Massage Therapy
Cupping (similar to Guashan and Theragun ® Therapy) can be used to release connective tissue adhesions. It may either be dragged over large surfaces or placed and kept directly over a more chronic or injured area for a longer period of time facilitating more blood flow to the injured tissue. In some cases, where there are numerous areas in need of release, multiple cups can be placed at the same time in order to treat the larger problem.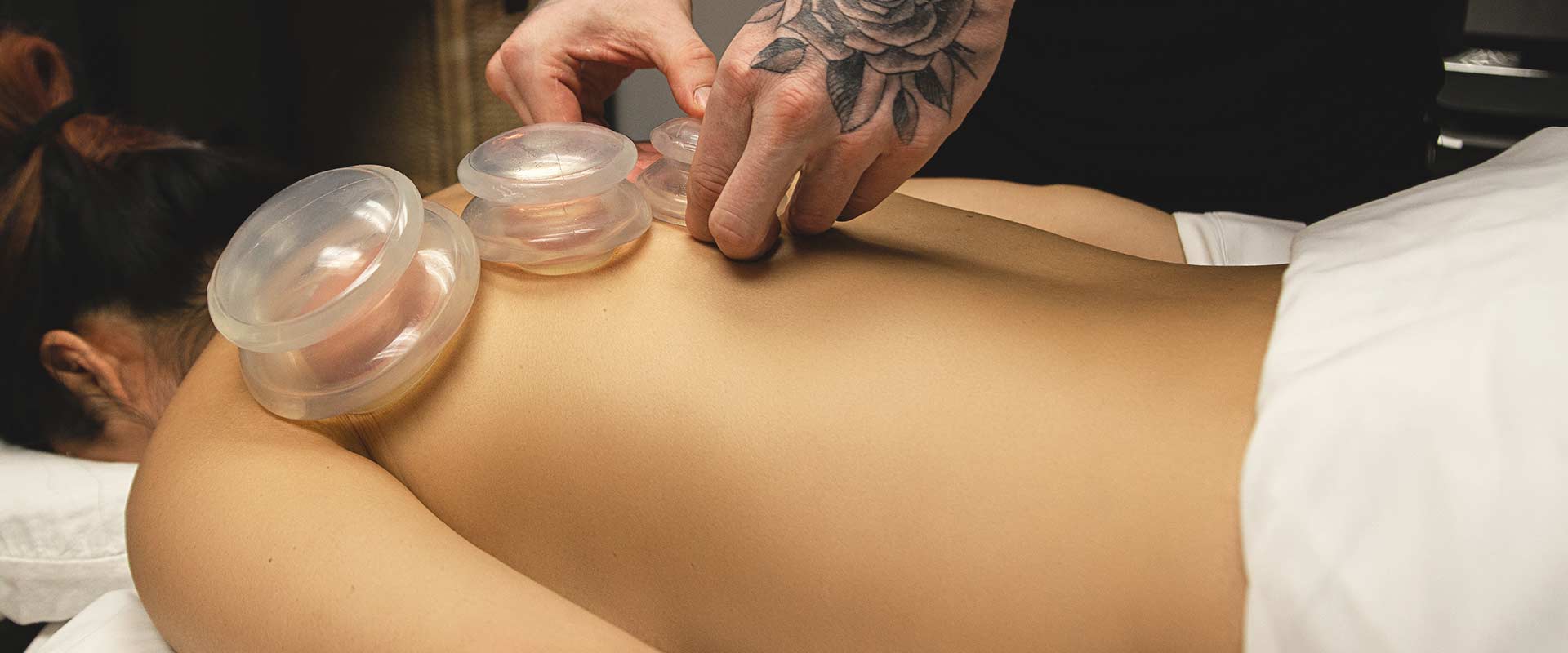 Calgary Deep Tissue Massage Therapy
Cupping (similar to Guashan and Theragun ® Therapy) can be used to release connective tissue adhesions. It may either be dragged over large surfaces or placed and kept directly over a more chronic or injured area for a longer period of time facilitating more blood flow to the injured tissue. In some cases, where there are numerous areas in need of release, multiple cups can be placed at the same time in order to treat the larger problem.
Calgary Prenatal Massage Therapy
Side lying prenatal massage focuses on releasing hips and low back tension in the pregnant mother to be. During the nine months of pregnancy a women's body goes through many bio-mechanical, structural and hormonal changes.  The hormone Relaxin is released in a woman's body to allow the ligament and tendons around the pelvis to "relax" making them more malleable however also more susceptible to the irritation of ligaments, tendons and muscles. Massages can help reduce the pain and discomfort associated with pregnancy and allow the body to be better prepared for the time of delivery.
Calgary Plantar Fasciitis Massage Therapy
At Mount Royal Village Family Chiropractic we have been successful in treating cases of Plantar Fasciitis using a multidisciplinary approach. As always we first look to the cause of the Plantar Fasciitis. Is the condition a function of misalignment of your gait cycle, and is that a function of foot bio-mechanics, hip or lumbar misalignment, muscle imbalance and spasm or other underlying conditions.
Once we understand the likely cause of your condition our team of health professionals will proceed to treat the pain associated with the Plantar Fasciitis as well as work toward correcting the underlying cause.
If you are suffering with Plantar Fasciitis please give us a call as soon as possible. Research would suggest that the longer the condition remains untreated the longer it will take to resolve.
Calgary Sports Massage Therapy
We all know that Athletes put their body through immense strain on a regular basis. Whether they're playing in competitions or they're training for them, an athlete's body experiences a great deal of wear and tear. Sports massage therapy is versatile, and tailored according to individual requirements. For example, you can get a massage before an event to ensure your body is relaxed and flexible, or alternatively, you can get a massage after a sporting event to trigger the body's healing process and relax overused muscles.
Sports massage therapy targets soft tissue, specifically the muscles and tendons, which can become strained or sprained during athletic physical exertion. The sports massage can release tension, reduce inflammation, and increase blood flow to the muscles to kick start the regenerative process.
Athletes and physically active people can benefit significantly from a sports massage. Regular massage also has the potential of improving your athletic performance.
Calgary Myofascial Release Therapy
Myofascial pain syndrome is a chronic pain disorder that can have a significant impact on a person's quality of life. A patient with this syndrome has sensitive, tight, and strained myofascial tissue, which causes consistent pain in varying degrees. The pain comes from specific trigger points in the myofascial tissue throughout the body. This type of massage releases the tension and strain from the myofascial tissue, which can give patients rapid pain relief.
While the pain originates from different trigger points in the body, the massage is not focused on specific points. Our experts will work the muscle and tissue over the entire body and help you relax. This massage therapy is versatile and can help people with:
Chronic pain from strained tissue
Chronic headaches and tension in the neck
Blood pools in the veins and venous insufficiency
Massage therapy promotes overall health and well-being, and can trigger the body's healing process to significantly help you relax.
Calgary Soft Tissue Massage Therapy
Soft tissue massage is a deep and effective massage therapy that targets the muscles, tendons, ligaments, nerves, fibrous tissues, fascia, and blood vessels. Our massage experts use a series of proven techniques to reach the depths of the soft tissue and relieve any trapped tension. This massage technique can improve flexibility, reduce pain and tension, get rid of inflammation, and improve athletic performance. People of all ages with all levels of activity can benefit from this massage therapy.
Soft tissue massage therapy is a combination of different techniques that can help patients deal with problems like headaches, upper back tension, tennis elbow, neck pain or stiffness, lower back pain, arthritis, shoulder pain and stiffness, and even facial tension. Patients that undergo this massage feel relaxed and flexible at the end of the session.
Our team first determine why you need a massage, and then isolate the most problematic areas before choosing a technique of soft tissue massage. The treatment is customized so that each patient has requires care that will best suit their needs.
Calgary Relaxation Massage Therapy
We lead very stressful lives! We are constantly on the go, always connected, and often work overtime. This causes a considerable amount of stress, and stress that builds up over time can be harmful to one's well-being. We recommend relaxation massage therapy to those who feel overwhelmed by the stress in their lives. These massages are tailored for people who simply want to relax. They include long, smooth movements that apply consistent but gentle pressure on the body.
The therapy can lower blood pressure, improve blood circulation, and gently exfoliate the skin to give it a glowing appearance. A relaxation massage will remove all stress from your body and make you feel rejuvenated. This technique does not address any chronic pain or severe muscle stiffness. It is designed to provide the patient with a gentle, pain-free experience.
Relaxation massage therapy can also help people who experience a lot of tension headaches and other stress-related ailments.
Our Services

Chiropractic Services

Massage Therapy

Acupuncture Services
Do You Experience Any Of These Symptoms?
We Can Help !